Online Short Film Competition
Enter the online short film competition for a chance to join the Just 4 Shorts Showcase.
Why Short Films
Short films trace back to the beginning of movie history, before the concept of feature films existed. In the silent era, many production companies focused entirely on shorts. Today, almost a century later, short films continue to strive as a new filmmaker's calling card in Hollywood.
For some, the short film is a proof of concept for a big budget feature film. The original PIXELS short film by Patrick Jean, for instance, was purchased by Sony's Columbia Pictures and adapted into a comedy starring Adam Sandler.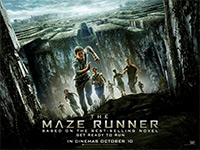 For others, a short film may also demonstrate its filmmaker's talent. After 20th Century Fox bought the rights to RUIN, a high-octane action packed short featuring a post-apocalyptic chase battle, its director Wes Ball was hired to helm Fox's MAZE RUNNER.
In either case, short films serve as a quick, efficient medium to demonstrate your filmmaking talent.
Showcase Shorts in Hollywood
Title
Sale/Option/Adaptation
RECORD/PLAY
by Jesse Atlas
Optioned by Atlas Entertainment for adaptation into a feature film.
SUNDAYS
by Mischa Rozema
Purchased by Warner Bros for adaptation into a feature film.
BRAIN HACK
by Joseph White
Optioned by Studio 8 for adaptation into a feature film.
THE GARGEN
by E.B. Rhee
Set for adaptation into a feature film with Warner Bros based Polymorphic Pictures producing.
PIXELS
by Patrick Jean
Adapted into a feature film starring Adam Sandler by Sony/Columbia Pictures.
RUIN
by Wes Ball
Purchased by 20th Century Fox for adaptation into a feature film.
Director was also hired by Fox to helm MAZE RUNNER.